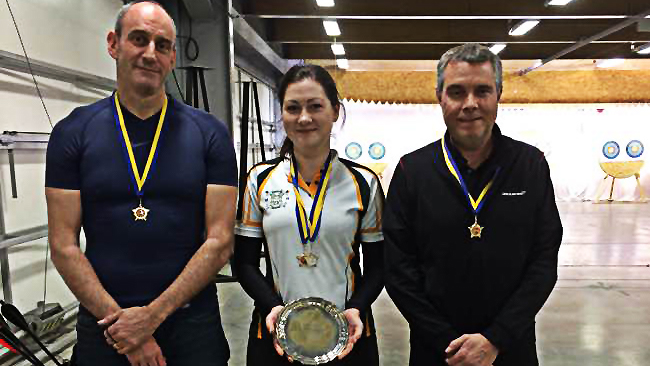 Breaking News: Farnham Archers win the Surrey Indoor Champs in the Team Category, Ladies Recurve and Lady Longbow!!! So the Surrey Indoor Champion Team consisted of Phil Harding, Kat Thorpe and Dave Paris! While Kat Thorpe won the Ladies Recurve title, making her the current Surrey Indoor Champ!
Julie Pilbeam won the ladies Longbow category and is now the Indoor and Outdoor Lady Longbow Champ, and as it would happen she was also presented with a beautiful belated trophy for winning the outdoor champs! Ren won 2nd overall, 1st for the double round and 1st gold session winner. Well done to all our archers who competed, it was a fun day full of friendly people!
Oh yeah, and Ian also stole all of Guildford's medals! Well they didn't hang around for the presentations so we took them. Don't panic, we did actually give them all to Guildford a few days later.